----- Présentation de "The League"
----- Retour à la liste des personnages de "The League"
---

"Ne jamais penser aux erreurs que vous faites. Pensez aux erreurs que vous ferez"


---
Nom : Jayne Toole Erixour
Surnom : Jay
Statut : Hyshian

Travail : Assassin
 
Date de naissance : 4 août 8530
 
Cheveux : Noirs
Taille : 1,93 m.
Constitution : athlétique

Parents : Egarious Toole et Helena Erixour
Compagnon : Hadrian
Enfants : Sway, Lyra et Tara
Meilleure amie : Galene
Pire ennemi : Jullien

Passe-temps : Redistribution des richesses
Moyen de transport : Tout ce qui va vite
Lisez son histoire dans
The League #12 - Born of Blood

Rapide, magnifique et létale, Jayne ne fait pas de prisonniers et ne laisse pas de survivants. 
Elle est l'obscurité qui suscite la peur dans le cœur des hommes et des femmes qui ont l'infortune de se retrouver au bout de sa lame.
Son badge de sécurité de la Sentella :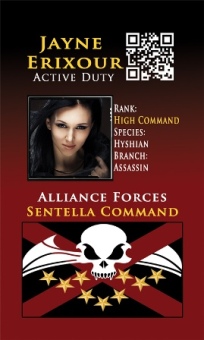 ---
Texte original © Sherrilyn Kenyon
Traduction © Dark-Hunter Francophone